The 7 Best Products To Get Your Dog at Chewy!
There are some affiliate links below, but they are all products I highly recommend. For more info, view my disclosure here.
Looking for the perfect gift for your dog this holiday? As a dog parent who's entire personality is making sure my dogs stay as healthy and happy as possible, I have been known to spoil them a bit. My favorite place to shop for everything dog is at Chewy. They have such a wide selection of the best dog products, from toys and treats to food and everything in between.
Why Shop At Chewy?
I'm sure you've heard of the impeccable customer service at Chewy, which, just that alone is a great reason to shop with them. Plus, they offer tons of unique dog toys and products not always available at other places.
Another great reason to shop at Chewy is their support of animal rescue and shelters. Roxy and Rico were street puppies and led me to an amazing Puerto Rican Street Rescue, OBRA, which has been amazing at taking care of street dogs, spaying/neutering, finding foster homes, and then sending them to partner rescues on the mainland to find their forever homes.
Since 2012, Chewy has donated over 100 million dollars in pet supplies and over 96 million pounds of pet food. Plus, they enable shelters to set up wish lists of necessities for the animals in their care. Our local shelter has a wish list, and I love the idea of being able to donate exactly what they need with just a few clicks.
With the holidays coming up, now is the perfect time to shop early & save up to 40% off top brands at Chewy!
ZippyPaws Hedgehog Plush Dog Toy
I don't know what it is about hedgies, but it seems they're among the most classic, favorite dog toys for every dog I've ever had! Roxy has had about a dozen various hedgies over the last 9 years and ZippyPaws Hedgehog is her absolute bestie. It's small enough to carry, while being big enough for her to use as a pillow sometimes.
While I was looking for their Christmas gifts, I came across this KONG Hedgehug and it looks like Roxy is getting a holiday hedgie to add to her collection!
ZippyPaws Hedgehog Plush Dog Toy
Cute and snuggly stuffed plushie with grunter squeaker is perfect for fetching, tugging, squeaking and more with medium and large sized dogs.
IRIS Elevated Feeder with Airtight Food Storage
We bought this IRIS Elevated Feeder over a decade ago for Ginger. Elevated feeders are great because they can help reduce neck and back strain for your dog, and it can keep your dog from spilling its food. It can make it easier for you to reach your dog's food bowl when you need to fill it up, and it provides a good amount of storage for your dog's food.
Again, I love supporting companies with great customer service. After having the feeder for a few years with 3 military PCS moves where they didn't exactly take as much care with our possessions as I would've hoped, one of the handles completely broke off. Rico then learned how to push it open and got busted happily chowing down!
I reached out to the company asking if they sold just the handle, but they insisted on sending me one free!
We now have 4 of these feeders in a variety of sizes. Roxy & Rico outgrew their puppy-sized ones and each has their own, and I hang onto the others in case we have foster dogs that can benefit from them.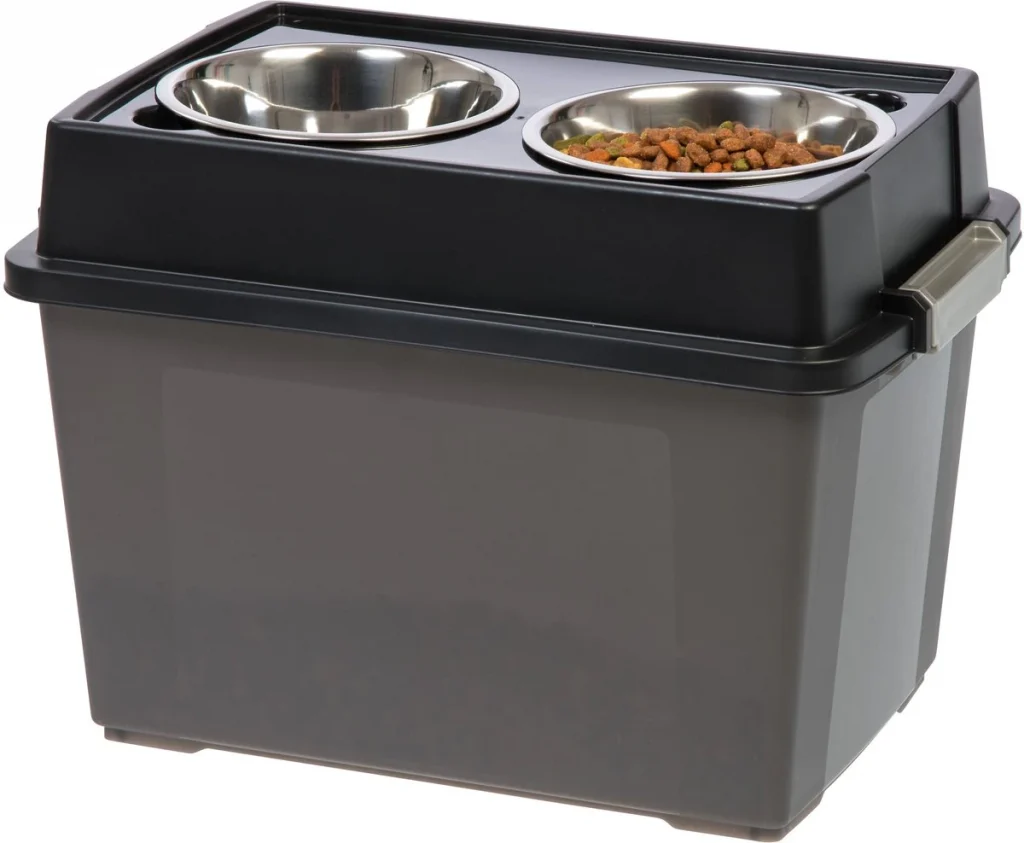 IRIS Elevated Feeder with Airtight Food Storage
This elevated feeder is airtight and helps your dog improve digestion and reduce muscle strain by placing the food bowls at their level.
Includes 2 removable stainless steel bowls for easy cleaning.
KONG Classic Dog Toy
I've written all about our love of KONG dog toys, and how they're great for bored dogs. Chewy offers a full assortment of KONG toys to thrill your dog. From the KONG Classic Dog Toy to the KONG Jumbler (Roxy's favorite ball) there is something for every dog!
KONG Classic Dog Toy
The KONG Classic red rubber toy helps satisfy dogs' instinctual needs while providing mental stimulation.
Best Bully Sticks 6″ Angus Bully Sticks Dog Treats
Your dog isn't a fan of stuffies or balls? I get it; Rico isn't either. However, he does go absolutely crazy for a good treat! Best Bully Sticks are the absolute best thing in his world.
I like giving them to Rico because they are all natural and they're great for helping keep his teeth clean. Plus, they take a bit of time for him to eat and help keep his anxiety down during stressful nights like New Year's Eve and Independence Day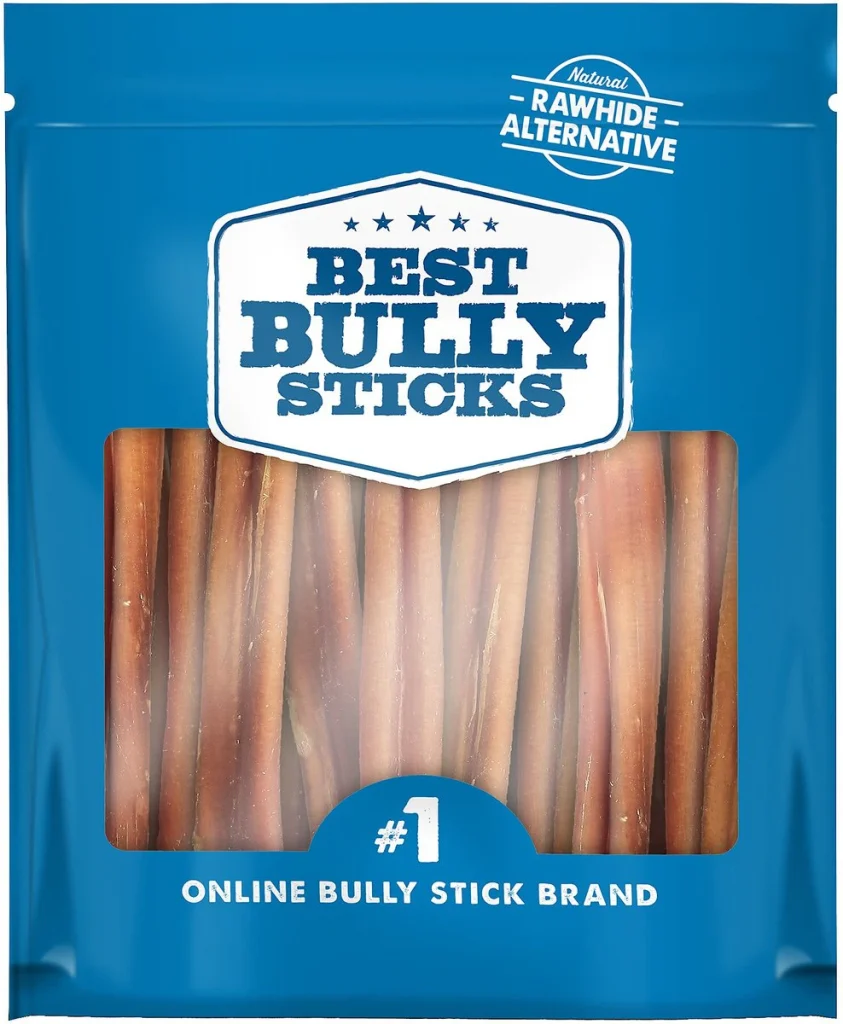 Best Bully Sticks 6″ Angus Bully Sticks
Best Bully Sticks are a single-ingredient dog treat, making them one of the most natural and nutritious chews available for your pup. These high-quality dog chews are 100% beef, and contain no artificial preservatives, colors, flavors, or other additives.
Nutramax Welactin Omega-3 Liquid Skin & Coat Supplement for Dogs
Fish oil is pretty wonderful for many dogs and has tons of great nutritional benefits. From seeing improved skin and coat to more lubricated joints, it helps many dogs look and feel great! If you've been thinking about adding fish oil to your dog's diet, I highly recommend Nutramax Welactin. They derive their fish oil from small cold water fish, and it has a great flavor Roxy & Rico love!
Sign up for our list and get a FREE printable pet identification sheet! It's super helpful for pet sitters or if your dog wanders away for home!
Nutramax Welactin
Long-chain omega-3 fatty acids derived from small cold-water fish help support healthy skin and a shiny coat, joint health, heart health, kidney health, brain health, immune health, and vision.
FurHaven NAP Ultra Plush Orthopedic Deluxe Cat & Dog Bed w/Removable Cover
As our dogs age, it's extra important for them to have a cozy, supportive dog bed. The FurHaven Ultra Plush Orthopedic Dog Bed is perfect for dogs of any age, but especially for senior dogs. I mean, even though I tell myself Roxy and Rico are just 9 year old puppies, the fact is that they are getting older and can benefit from a comfortable place to relax.
An orthopedic dog bed helps distribute weight and alleviates pressure on the muscles and joints. Plus, the removable cover makes it easy to keep clean.
FurHaven NAP Ultra Plush Orthopedic Deluxe Dog Bed w/Removable Cover
Orthopedic pet bed evenly distributes weight and alleviates pressure on the muscles and joints. Easy, step-on design allows older and disabled pets to easily get on without the need to jump.
Max & Neo Dog Gear Nylon Reflective Double Dog Leash
Roxy is such an attention hound, especially when we're out in public. She stares at every oncoming person with the biggest puppy dog eyes ever, just begging for them to pet her. That's why the Max & Neo Double Dog Leash is perfect for her.
I love, love dog leashes that have an extra handle to keep her close when we're hiking on narrow trails. They help keep her from getting a little carried away with asking to be pet and keeps her from getting into a stranger's personal space.
Max & Neo Dog Gear Nylon Reflective Double Dog Leash
Two neoprene padded handles for added maneuverability and control on walks, plus the reflective stitching helps keep you and your dog visible on walks at night.
What's on your shopping list for your pups this holiday season? Let me know in the comments below!