46+ Yummy & Healthy Snacks To Fill Your Dog's Kong!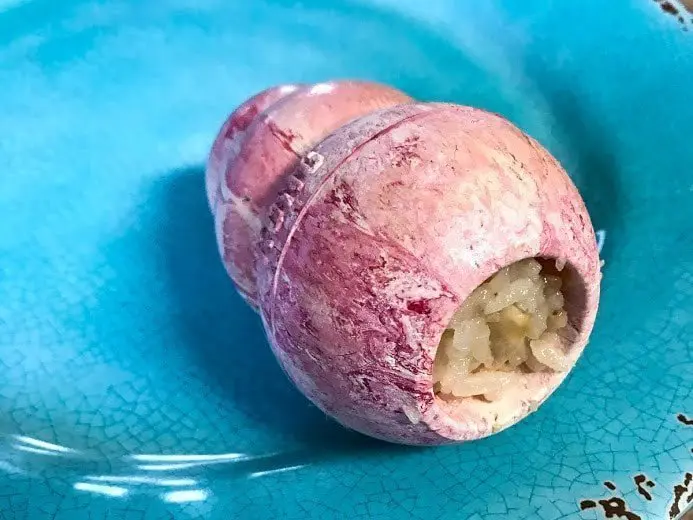 There are some affiliate links below, but they are all products I highly recommend. For more info, view my disclosure here.
When you get a dog, one of the first things you learn is how important the need for them to chew becomes.
They seem to love chewing on anything they can get their little teeth on, like socks, shoes, stuffed toys, anything!
One of the best ways to help your dog stay busy and keep them out of trouble is by giving them something safe to chew on.
The KONG has long been one of our favorite dog toys, especially when stuffing a KONG with a variety of treats.
Stuffed KONGs are just amazing when it comes to keeping your dog busy and mentally occupied.
You can make them with ease, they can last a long time, and they are a perfect way to keep your dog entertained.
If you are seeking a simple way to keep your dog busy and get them with plenty of additional mental stimulation you cannot go wrong with utilizing these treats for KONG toys!
Read on for how to entertain your dog with a KONG, which KONG is best, and see how to fill a KONG with all kinds of fun combinations!
A Stuffed KONG Keeps Your Dog Occupied
Do you want to know a simple way to help your dog stay busy safely?
You make your dog work for his food by stuffing a KONG.
By treating them with a stuffed KONG, you are providing them an opportunity to utilize their natural abilities.
If your dog is needing attention but you need to keep them busy and out of trouble then a stuffed KONG is fantastic.
All kinds of snacks and treats can be used to keep your dog healthy and entertained.
The Benefits of Giving Your Dog a KONG
There are a lot of benefits to giving your dog a KONG besides calming their desire to chew.
It helps puppies with painful teething by massaging their gums and gives them a distraction when they have separation anxiety.
When we rescued Rico, he had horrible separation anxiety. Luckily, I worked from home but I couldn't step out of his sight without him beginning to panic.
The kid was my literal shadow!
I remember the first time I gave him the KONG filled with his favorite treats.
It was the first time I was able to go upstairs and fold laundry unattended while he relaxed with it on the patio. I was so proud!
KONG changed the way our dogs can be occupied and stay out of trouble.
Puppy KONG toys can be a perfect distraction if you are working or doing chores and want to keep your dog busy or you want to help your dog stay mentally stimulated.
If your dog is a fast eater, giving them meals inside the KONG will slow them down and keep them from inhaling their food.
Picking the Right KONG for Your Dog
There are a wide variety of KONG rubber toys for you to pick from. Wondering how to decide which toy is ideal for your dog?
Luckily, they make it nice and easy to determine which is the Best KONG for each type of dog.
When choosing the perfect KONG toy for your dog, you want to pick based on their age and size.
Choosing the Right KONG Rubber Strength
If you have a puppy, the KONG Puppy line are perfect KONGs for puppies.
The rubber is durable yet soft, so it is quite gentle on their gums. It comes in sizes Extra-Small all the way to Large, which is ideal for large breed puppies.
Rico is our delicate flower and doesn't play rough with rubber toys, even now that he's almost 6 years old.
He still prefers the Large Puppy KONG over any of the other ones we have laying around the house!
KONG Classic
The KONG Classic is the most popular and best option for most dogs.
It's classic red rubber is durable and unpredictably bouncy. It's a great option for adult dogs!
Like all their natural rubber toys, they're made in the USA.
KONG Extreme
Is your dog the destroyer of all things? The KONG Extreme was made for them!
It's made of an ultra-durable rubber specifically for the toughest chewers.
Roxy was our problem child when it came to destroying things when she was young, but the KONG Extreme survived her destructive phase and is still going strong years later!
Senior Dogs Can Benefit From KONG Toys
Just because your dog is getting older doesn't mean the fun needs to stop! The KONG Senior is a great option for senior dogs.
Like the KONG Classic toys, this is a snowman-shaped rubber toy, with the extra advantage of being designed particularly for a senior dog's aging teeth and gums.
They also have the KONG Goodie Bone, which was perfect for when our Ginger had her leg amputated due to cancer.
She adapted to 3 legs wonderfully, but eating treats was a bit difficult to manage with only one front leg.
The Goodie Bone was much easier for her to hold on to and snack on the fillings I put inside without it bouncing or moving around too much.
What Do You Fill a Kong With?
One thing to keep in mind when giving your dog a stuffed KONG is that all those additional calories can add up pretty fast.
Always keep in mind how much food you're putting in your dog's KONG.
If you are utilizing a high-calorie treat, mix in some low-calorie dog treats as a healthy filer.
You may not even need to pack it filled to the top to keep your dog busy for a while.
Food Items to Stuff inside a KONG
Wondering what to put in a KONG for a puppy? Or what to put in a KONG for an adult dog?
Here's the fun part of KONG stuffing!
Feel free to get creative with two ingredients and work your way up.
Apples
Banana
Strawberries
Blueberries
Peaches
Cranberries
Apricots
Canned Pumpkin
Apple Sauce (may need to be frozen)
Green Beans
Peas
Carrots
Broccoli
Cauliflower
Dog Kibble Capped with Peanut Butter
Plain or Greek Yogurt
Ground Meat
Peanut Butter
Canned Premium Dog Food
Cheese Cubes
Cream Cheese
Cottage Cheese
Unsalted Crackers
Baby Food
Eggs, cooked
Liver, freeze-dried
Unsalted Peanuts
Cheerios
Dog Treats
Potatoes, cooked
Rice, cooked
Salami
Tuna
Cooked Pasta
Leftover meat scraps
Bread
Chicken, cooked or shredded
Turkey, cooked or shredded
Hot Dog
Low-sodium Beef Jerky
Cold cut deli meat
Bread slice with a Tasty Spread
Oatmeal (uncooked, sprinkled)
Vanilla Ice Cream
Agave Nectar
Honey
The Instant Pot makes it so easy to make homemade dog food, and it makes for a perfect healthy filling for KONG. See our Instant Pot dog food recipe here!
How Do You Make A Stuffed Kong Last Longer?
When your dog is just starting to learn how to dig food out of their KONG, it can take them a while to finish it.
Most dogs pick up on the basics of how to dig the food out pretty quickly, but still take their time at first.
You can keep it simple at first by mixing and matching your dog's favorite food and treats.
If it's your dog's first time using a KONG, make sure to praise them when they begin moving it around and sniffing it to motivate them to play with the KONG.
But what do you do when your dog becomes an expert at cleaning out their KONG?
One step is to pack the KONG even more full with smaller bits of food.
Once they master that, you can try sticking it in the freezer for a few hours before giving it to your dog.
If your dog is an expert at digging all the food out of the KONG, being frozen will take longer for them to devour the fillings. That makes an especially good treat on warm summer days!
Do KONG Toys Make a Mess?
Honestly, KONG toys can be a bit messy when they're filled with all kinds of yummy food. It's not really too bad, though, and well worth it when you see how happy it makes your dog!
With some planning, you can minimize the mess. If your dog has a crate they love to relax in, giving them the KONG inside their crate helps contain the mess.
Otherwise, you can work with your dog to teach them to chew the KONG while laying on a specific dog bed or blanket that's easily washable.
If the weather is cooperating, they can take their KONG outside and relax in the warm sunshine with it.
How To Clean a KONG
I've noticed our KONG toys get pretty slimy after my dogs are done going to town on them. Between them slobbering all over it, the mix of KONG fillings, and random bits of dirt, grass, or hair, it gets gross!
It's important to clean out your dog's KONG after each treat session.
Even the most persistent dogs may leave little bits of food at the base of their KONG. Not to worry, though! Cleaning the KONG is nice and easy.
To clean the KONG, rinse it well, then soak it in warm water with a bit of dish soap to loosen up food that's stuck inside.
Then you can use an old toothbrush or small bottle brush to clean inside the KONG.
You know those free toothbrushes you get when visiting the dentist? Those are perfect for cleaning out the KONG!
Does your dog like eating snacks and meals out of a KONG? What's their favorite filling? Share below and pin this for later!